Dear Clients,
I hope this update finds you all in safe and good health with the grace of god. After a long year battling COVID-19 restrictions, today we are faced with an even more deadly and detrimental variant of the virus. Apart from spreading like wildflower in Europe, it is now beginning to show its ugly head in Ghana. The government of Ghana has taken urgent action against the new – and all – variants of COVID-19, as numbers are accelerating at an alarming rate.
Below are the numbers as they were in July 2020 and numbers as of February 12th 2021.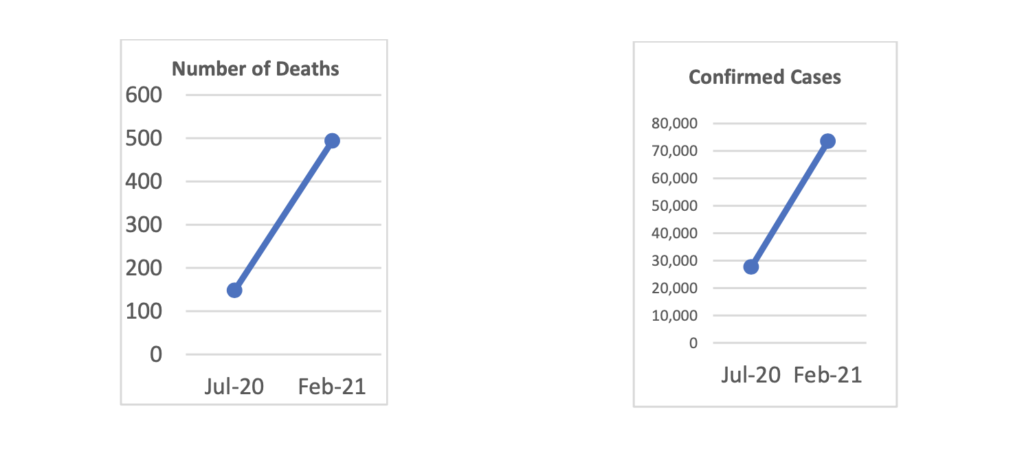 Source: https://www.ghanahealthservice.org/covid19/archive.php
As you are aware, and as stated in our last update, we have gone above and beyond to ensure everyone's safety by having a fully equipped clinic built on site, staffed by a full time Doctor and nurse. Unfortunately, due to the alarming increase in COVID-19 cases, we have been forced to reduce the number of staff on site for the protection of the employees and the business. We are currently operating with a skeleton workforce of circa 25% of our normal headcount, which of course is detrimental to our output.
This has meant we are not able to meet our expectation as envisaged in our last update. Nevertheless, we are still in production and continuing to produce, albeit a fraction of our expected output. We anticipate this will change once the new minerals and mining minister is sworn in.
There is good news. The trial operation of the processing plant with the new equipment and vibrating screen has completed and is working well. Once COVID-19 restrictions are eased, we are ready to start two shifts as mentioned in previous communication. Although not at the pace we had planned, we have been, and will continue to honour all contracts as per their redeemable dates within the new COVID-19 restrictions.
My team and I pride we on transparency and honesty and are always on hand to answer general queries. Please address all to info@transeco.org . If you would like to speak to me directly, please request this through the back-office who will be happy to arrange a call.
Please stay healthy and safe from this dreadful pandemic. Kind regards
Mr A Niazi  Mr G Amarh 
Director Director